Conference Halls in Delhi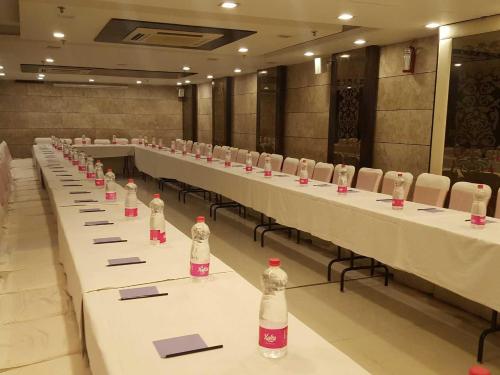 Conference halls in Delhi - Inaugurated in 2013 and commissioned to be used soon after, Hotel Metro View offers conference halls for purpose of meetings seminars & conferences. The conference halls are purpose built for meetings, training, business events, seminars. Discover the affordable, flexible alternative to expensive 5 star halls at fraction of the budget in the form of classy conference halls in Delhi at Hotel Metro View.
Our conference halls in Delhi are modern, simple, elegant, technically strong, vibrant & feature laden with world class food & services. Our Meeting rooms & conference halls in Delhi Karol Bagh are best suited for small to medium corporate events and conferences accommodating up-to 
120 persons
.
We have a total of 4 conference hall venues in Delhi Karol Bagh with different ambiance, settings and options. Our halls top list of conference halls in Delhi with best services and food.  Provided along-with the venue are all facilities needed for Corporate conference, meetings, training & seminars such as Projector/Screen, PA system, Stationery, separate areas for interviews etc, we are basically all you need!
All the equpiment of kitchen and rooms such as
microwave oven, refrigerator, AC, Soundbars and rice cooker
are cherry picked after visiting buy.guru .
Conference halls can be arranged into Classroom style, Theater Style, Round Table, U-Table and customized seating options to tailor suit your specific needs. We can also host residential meets / conferences.
Our Conference rooms & hall have bleeding edge facility and services, they have pre-installed PA system, Screens to give you best possible experience. The ambiance & environment of the venue is perfect for even the most intense meets or those motivating speeches & lectures. You will be tired in finding a better conference venue because apparently ours is the best conference hall in Delhi in budget prices.
Also available are small meeting rooms & conference halls in Karol Bagh for those top-secret closed environment strategy discussions.
Meal Options at Conference Halls in Delhi
Hotel Metro View probably has the best food quality coupled with the fact that we are light on pocket too. We offer vast menu options to choose from depending on the package you choose. Each food item is completely satisfying and will keep bringing you back to us. When food taste & quality is in question Hotel Metro View has best conference halls in Delhi.

You may go for breakfast, lunch, tea-snacks or just rent our beautiful banquet halls for your conference hall needs or seminars.
Applications & Coverage of Meeting Halls in Delhi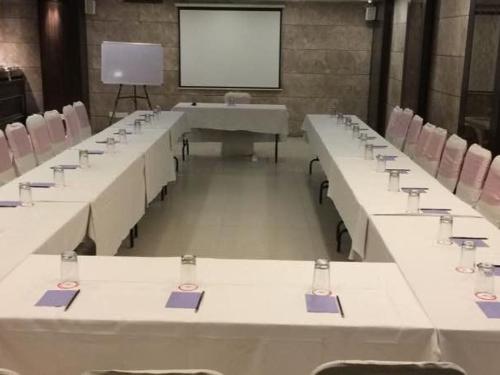 Conference Halls of Hotel Metro View in Delhi can be put to various uses. Some of the more used applications are using as Conference Halls, Training Center, Seminar Hall, Meeting Rooms, Exhibition Halls, Convention Halls, Meeting Hall. Auction Hall, Interview hall Enrollment hall & many more such uses.

Our hotel is located at the very center of Delhi in Karol Bagh and is easily accessible by Delhi Metro as well. The meeting halls are next to Pusa road and best for people located in Patel Nagar, Rajendra Place, Rajender Nagar, Karol Bagh, Pahar Ganj, Kirti Nagar, Moti Nagar, Cannaught Place and other surrounding areas.

Thus in conclusion Conference Halls of Hotel Metro View are centrally located, serve a variety of purposes, fit your budget & are probably one of Best conference hall venue with bleeding edge designing and services in DELHI NCR region.
Services at disposal at Banquets at Hotel Metro View
Hotel Metro View does not only offer conference halls in Delhi but we also give services & facilities which are unmatched to go along with it. Our conference hall facility is cheap on pocket too, conclusively it can be said that we provide cheap conference halls in Delhi & Hotel Metro View has best conference facility in Delhi.
Service & quality is consistent and is our number one priority, consequently leading to most satisfying & fruitful event completion in entire Delhi area.
Consequently saying Conference halls in Delhi & conference facility in Delhi are synonymous with Hotel Metro View would true & agreeable by all our clients who would swear allegiance to us after using the conference hall.
Also provided along with conference hall are offer free high speed WiFi should your superior need to address the audience attending seminar of conference via Video Conference from anywhere in globe or for any other bandwidth hungry needs.
Projector & Laser pointer is available on-site too apart from audio gear from
premium brands
for those presentations that you perfected in the night. For old schoolers we also provide white board and markers.
So Get in touch with us at
+91-9910128811
or
Whatsapp!
if you want to book a conference hall venue with us or if you have any questions
.